Lanier LD550C Black Lines or Streaks Repair Instructions
Lanier LD550C Black Lines or Streaks – Due to all these Ricoh, Lanier, Gestetner, and Savin pieces of equipment growing older I have been starting to find more and more of these models that happen to have somewhat the same print out quality problems just like the snapshot further down. Below is certainly an powerful scenario of what can potentially occur. I often encounter examples like this when the user only uses color on occasion and most of the printing is done in black and white.

Two Parts that Most Likely Cause Lanier LD550C Black Lines or Streaks 
Lines and streaks most commonly come from worn-out charge rollers and / or cleaning blades. These items are both components of the drum unit and also have the identical life number. These also can be problematic to troubleshoot one at a time because of the fact that it usually takes a substantial amount of tear down to reach the components. Furthermore, the condition isn't necessarily visible by outward appearance. The following are some advice on things to consider should you wish to further check out. Professionally, I have reached the point of not devoting a lot of energy on them and just exchange the drum unit or units once I see samples like what you see here. I have tried to clean them up, but 99% of the time I just get called back out in a few days or months for the identical circumstance and I just end up changing them.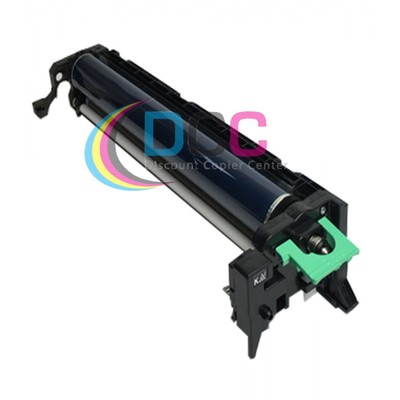 Black Drum Unit Ricoh Aficio MPC5000 MPC4000 MPC3300 MPC2800 D0292256, D029-2250
VIEW THIS ITEM
Item condition: New
Ended: Apr 27, 10:57 PST
Free shipping
Lanier LD550C Black Lines or Streaks Related to Cleaning Blades
Worn out cleaning blades have a tendency to create clear dark lines through the page. Many of us match it to windshield wiper blades. Similar to a windsheld wiper blade, you traditionally cannot really visually discover the blade is not good. You only need to recognize that when it rains, every thing streaks, and it's really time for you to change them. About the only way you can identify the age of the blade would be the fact a fresh cleaning blade is clear. As the blade ages they will develop to be a yellowish-brown. In addition, they commonly tend to stay surprisingly tidy on one side. When they begin to break down you routinely experience a build up of toner in the area around the clean part where they're worn out. Now and again it is possible to clean the sides down and fix print quality for a limited period of time, but I'm talking about a fairly short time period, like a few prints or maybe a week in most instances.
Lanier LD550C Black Lines or Streaks Charge Roller Issues
Charge roller troubles is frequently wider spread out and much less sharp. The charge roller prepares the drum for being written to. When the charge roller gets too dirty it doesn't necessarily complete its duty and you most likely to obtain a light background color in that area. The cyan lines across the top of the paper seem to be a charge roller concern where some the darker thinner lines near the middle and bottom are more likely cleaning blade issues. If I will need to inspect a charge roller I routinely clean it off with a water or alcohol damp pad. Once again, I've observed that cleaning them only works out for a while. The actual out comes are likely to endure greater than making an attempt to tidy a cleaning blade, although the result is the same, in a several weeks or months your definitely going to come back to change it out.
Conclusion about the Lanier LD550C Black Lines or Streaks 
Alright, I hope that helps. You possibly can find vendors which supply rebuilding products. However, unless the drum unit is extremely pricy I will not recommend these for anyone who does not impliment this type of work for a living. They can get very messy and also the drum is very sensitive. I small scrape on it might spoil your day after you did all that effort taking apart and positioning it back together again. In occasions like the graphic on this page, the person probably really needs many new drum units and perhaps new developers. The unpleasant situation is often that when you allowed them to get this bad it really is very hard to decide what actually will have to be switched out. The drums are worn out however it is tricky to know if it will really need completely new developers.
Click on the link below for the drum replacement instructions
Ricoh Aficio MP C2500 Drum and Blade Kit Video Instructions
This is an instructional video on how to rebuild a Ricoh Aficio MPC2500 and MPC4500 drum and blade kit. If you have any questions on how to install this kit please feel free to contact us...