Lanier LD533C Black Lines or Streaks Repair Instructions
Lanier LD533C Black Lines or Streaks – As a lot of these Ricoh, Lanier, Gestetner, and Savin devices getting older Now I am starting to encounter more and more of these pieces of equipment that create notably related print out quality problems as the photo further down. Below is considered to be an extraordinary illustration of what might transpire. I usually observe situations like this when the customer only utilizes color in some cases and most of the printing is implemented in black and white.

Two Parts that Most Likely Cause Lanier LD533C Black Lines or Streaks 
Lines and streaks in most cases are caused by used up charge rollers and / or cleaning blades. These pieces are both things of the drum unit and have the same life level. They furthermore can be frustrating to troubleshoot and fix independently considering the fact that it normally takes a great deal of dismantle to reach the items. Aside from that, the trouble isn't necessarily notable by visual appearance. Below are some considerations on things to search for if you opt to further check out. Professionally, I've gotten to the point of not dedicating a lot of time on them and just switch out the drum unit or units after I see situations like what you see on this page. I have attempted to clean them up, but 99% of the time I just get called back out in a few days or months for the similar predicament and I just wind up changing them.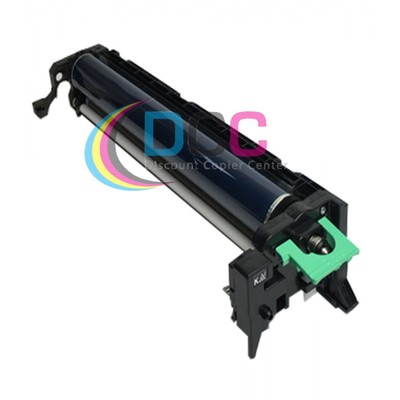 Black Drum Unit Ricoh Aficio MPC5000 MPC4000 MPC3300 MPC2800 D0292256, D029-2250
VIEW THIS ITEM
Item condition: New
Ended: Apr 27, 10:57 PST
Free shipping
Lanier LD533C Black Lines or Streaks Related to Cleaning Blades
Old cleaning blades normally provide sharp dark lines in the document. Many individuals relate them to windshield wiper blades. Just like a windsheld wiper blade, you mostly can't visually notice the blade is poor. You only need to know that in the event it rains, every thing streaks, and it's really time for you to swap out them. About the only way for you to find out the age of the blade is the fact a brand-new cleaning blade is clear. While the blade gets older they will end up getting a yellowish-brown. Besides that, they have a tendency to remain particularly clean on one side. Once they start to not work you traditionally discover an accumulation of toner in the region upon the clean area where they are worn down. Now and again you could potentially clean the edges down and recover print quality for a brief period of time, but I'm referring to a incredibly short time frame, like a handful of prints or just a week typically.
Lanier LD533C Black Lines or Streaks Charge Roller Issues
Charge roller troubles is frequently wider spread and much less distinct. The charge roller readies the drum for being written to. Whenever the charge roller gets soiled it won't perform its activity and you commonly tend to acquire a light background color in that area. The cyan lines throughout the top of the area appear to be a charge roller concern where some the darker thinner lines near the middle and bottom are more likely cleaning blade issues. If I plan to analyze a charge roller I sometimes wash it off with a water or alcohol damp washcloth. Yet again, I have discovered that cleaning them primarily performs for a while. The actual outcomes show the tendency to endure a lot more than making an attempt to tidy a cleaning blade, though the outcome is similar, in a several weeks or months your quite possibly going to be back to change it out.
Conclusion about the Lanier LD533C Black Lines or Streaks 
Alright, I hope that helps. You will discover manufacturers which will present you rebuild solutions. But the truth is, unless the drum unit is quite costly I do not tend to suggest them for a person who doesn't impliment this method of work for a living. They could get very dirty additionally, the drum is exceedingly delicate. I minor mark on it may ruin your mood after you did all that work taking apart and positioning it together again. In conditions much like the photograph outlined in this article, the individual surely really needs completely new drum units and maybe new developers. The negative thing is often that for those who permit them to get this bad it is very difficult to distinguish what precisely has to be replaced. The drums are shot yet it is difficult to determine if it will demand completely new developers.
Click on the link below for the drum replacement instructions
Ricoh Aficio MP C2500 Drum and Blade Kit Video Instructions
This is an instructional video on how to rebuild a Ricoh Aficio MPC2500 and MPC4500 drum and blade kit. If you have any questions on how to install this kit please feel free to contact us...