Lanier LD528C Black Lines or Streaks Repair Instructions
Lanier LD528C Black Lines or Streaks – Due to all of these Ricoh, Lanier, Gestetner, and Savin machines are growing older I have been starting to encounter more and more of these models that have fairly alike in many ways print quality aspects just like the picture down the page. Below is really an over the top sample of what can possibly materialize. I normally witness cases like this when the consumer just takes advantage of color sometimes and majority of the printing is accomplished in black and white.

Two Parts that Most Likely Cause Lanier LD528C Black Lines or Streaks 
Lines and streaks most often originate from used up charge rollers and cleaning blades. These sections both are areas of the drum unit and have the equal life number. They also can be not easy to resolve on their own considering the fact that it entails a considerable amount of dismantle to reach the parts. Aside from that, the issue isn't always recognizable by overall appearance. Listed below are some recommendations for what to look for should you wish to further look into it. Myself, I have reached the point of not squandering a lot of time on them and just change the drum unit or units when I see samples like what you see in this article. I've attempted to clean them up, but 99% of the time I just get called back out in a few days or months for the very same trouble and I just wind up replacing them.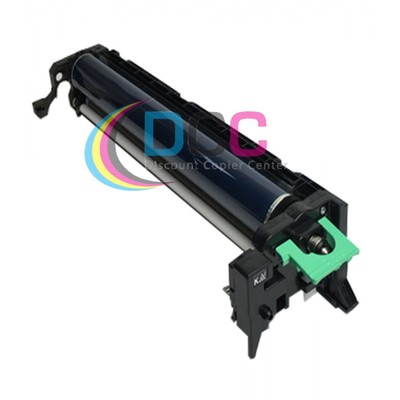 Black Drum Unit Ricoh Aficio MPC5000 MPC4000 MPC3300 MPC2800 D0292256, D029-2250
VIEW THIS ITEM
Item condition: New
Ended: Apr 27, 10:57 PST
Free shipping
Lanier LD528C Black Lines or Streaks Related to Cleaning Blades
Used cleaning blades possess a tendency to result in distinct dark lines on the sheet. Numerous individuals relate them to windshield wiper blades. Like a windsheld wiper blade, you most often aren't able to visually view the blade is worn. You only need to realize that if it rains, everything streaks, and it's time for you to retire them. About the only method for you to know the age of the blade is often that totally new cleaning blade is transparent. When the blade gets older they end up getting a yellowish-brown. Additionally, they commonly tend to remain considerably tidy on one side. Once they begin to break you commonly experience a build up of toner in the region on the clean side where they are worn out. Now and again you may clean the sides down and resolve print quality for a limited period of time, but I'm referring to a fairly short time, like a couple of prints or a week in most instances.
Lanier LD528C Black Lines or Streaks Charge Roller Issues
Charge roller troubles is frequently wider range and much less distinct. The charge roller preps the drum to be written to. Generally if the charge roller gets too dirty it's not going to execute its purpose and you most likely to acquire a slight background color in that zone. The cyan lines around the top of the document appear to be a charge roller matter where some the darker thinner lines near the middle and bottom are more likely cleaning blade issues. If I choose to analyze a charge roller I generally clean it off with a water or alcohol damp fabric. Yet again, I actually have detected that washing them basically functions for a while. Now the outcomes often tend to persist longer than attempting to clean a cleaning blade, but the final result is the same, in a few weeks or months your very likely going to return to change it.
Conclusion about the Lanier LD528C Black Lines or Streaks 
Alright, I hope that helps. You will find establishments that will feature rebuilding products. Regardless, unless the drum unit is particularly high priced I really don't tend to recommend them for somebody who doesn't impliment this style of work for a living. They can become very messy additionally, the drum is particularly delicate. I tiny scrape on it will likely ruin your day after you did all that work taking apart and putting it back together. In situations comparable to the photo in this article, the user probably really needs all new drum units along with perhaps new developers. The terrible issue is that as soon as you let them get this bad it is very difficult to decide just what should be repaired. The drums are shot but it's difficult to determine if it will demand completely new developers.
Click on the link below for the drum replacement instructions
Ricoh Aficio MP C2500 Drum and Blade Kit Video Instructions
This is an instructional video on how to rebuild a Ricoh Aficio MPC2500 and MPC4500 drum and blade kit. If you have any questions on how to install this kit please feel free to contact us...