Ricoh Aficio MP C2050 Black Lines or Streaks Repair Instructions
Lanier LD445C Magenta Lines or Streaks – As a lot of these Ricoh, Lanier, Gestetner, and Savin pieces of equipment grow old Now I am beginning to discover more and more of these units that have remarkably comparable picture quality details as the photograph beneath. Below is considered to be an over the top example of what might occur. I oftentimes experience examples like this when the customer only uses color in some cases and most of the printing is done in black and white.

Two Parts that Most Likely Cause Lanier LD445C Magenta Lines or Streaks 
Lines and streaks for the most part are caused by worn-out charge rollers and cleaning blades. These components are both sections of the drum unit and also have the corresponding life number. These additionally can be difficult to troubleshoot and fix on their own given that it needs a considerable amount of tear down to find the components. Furthermore, the situation isn't necessarily observable by visual appearance. The following are some some tips on things to look for if you opt to further look into it. Myself, I have reached the point of not wasting a lot of time on them and just replace the drum unit or units whenever I see situations like what you see in this posting. I've tried to clean them up, but 99% of the time I just get called back out in a few days or months for the precise same situation and I just end up changing them.

Lanier LD445C Magenta Lines or Streaks Related to Cleaning Blades
Old cleaning blades are likely to leave behind sharp dark lines across the paper. Quite a few people equate it to windshield wiper blades. Like the windsheld wiper blade, you mostly simply cannot visually observe the blade isn't good. You merely confirm that if it rains, everything streaks, and it's time to fix them. About the only method for you to distinguish the age of the blade is the fact a brand-new cleaning blade is transparent. While the blade becomes older they can end up as a yellowish-brown. Aside from that, they have a tendency to stay pretty clean on one side. Once they start to break down you sometimes discover a build up of toner in the spot near the clean side where they're worn out. Sometimes you can possibly clean the edges off and revive print quality for a tiny period of time, but I'm talking about a fairly short time, like a number of prints or maybe a week in many instances.
Lanier LD445C Magenta Lines or Streaks Charge Roller Issues
Charge roller failure is frequently wider spread out significantly less clear. The charge roller prepares the drum to be written to. Should the charge roller gets unclean it won't achieve its job and you often tend to have a weak background color in that area. The cyan lines throughout the top of the document seem to be a charge roller matter where some the darker thinner lines near the middle and bottom are more likely cleaning blade issues. If I must analyze a charge roller I usually clean it off with a water or alcohol damp towel. Just as before, I have realized that cleaning them basically is effective for a while. Now the outcomes generally tend to remain more than making an attempt to clean up a cleaning blade, nevertheless the outcome is identical, in a number of weeks or months your probably going to be back to change it out.
Conclusion about the Lanier LD445C Magenta Lines or Streaks 
Great, I trust that helps. You may find establishments that advertise rebuilding kits. However, unless the drum unit is quite really expensive I do not tend to suggest these for someone who doesn't do this sort of work for a living. They may become very messy and the drum is actually sensitive. I minimal scratch on it probably will mess up your day after you did all that effort taking apart and inserting it back together. In cases such as the image in this article, the consumer definitely must have many new drum units and maybe new developers. The terrible detail tends to be that anytime you permit them to get this bad it is usually very hard to recognize just what exactly really needs to be fixed. The drums are worn however it's tough to know if it will really need brand new developers.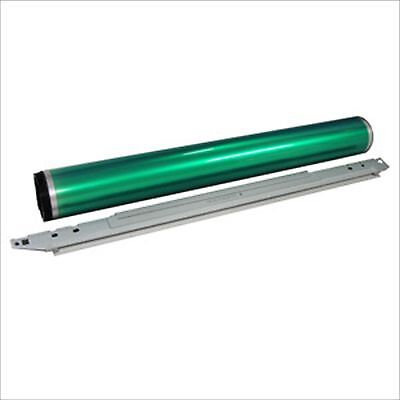 Ebay.com