Kyocera TASKalfa 220 Fuser Replacement Procedure – FK-460, 302KK93041
Personally, I don't have a lot experience with these machines so I don't have much to say about the fusers. Below you will find the fuser replacement illustrated instructions along with a list of the common error codes associated with the fuser. These fusers are rated at 300,000 pages like most other large models.

$298.67
3 new from $234.00
Amazon.com
Last updated on May 5, 2018 12:50 am
Kyocera TASKalfa 220 Fuser Related Errors
C6000 Fuser heater break
C6020 Abnormally high fuser thermistor temperature
C6050 Abnormally low fuser thermistor temperature
Kyocera TASKalfa 220 Fuser Removal Procedure
Follow the procedure below to check or replace the fuser unit.
Note : Turn the power off and unplug the power cord from the wall before performing repair. Also, the fuser is extremely hot. Therefore, you might want to wait 10 to 20 minutes before removing and avoid touching the hot roller or pressure roller.
1. Open the front cover and left cover.
2. Remove the screw and release three inserted parts and then remove the front left cover.
3. Remove the screw and two connectors and then remove the fuser unit.
4. Replace the fuser unit and refit all the removed parts.
After connecting the connector, be sure to hitch the fuser thermistor wire to both the notch position and the hook of the fuser unit.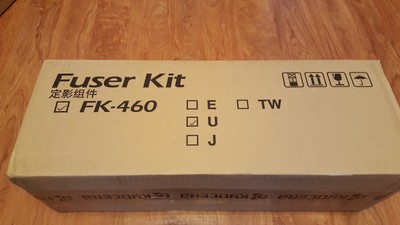 FK-460 Fuser assembly for Kyocera TaskAlfa 180 / 220 and 181 / 221
VIEW THIS ITEM
Item condition: New
Ended: Mar 31, 12:21 PST
Kyocera Fuser Unit FK-460
Buy Now
Amazon.com
as of May 5, 2018 12:50 am
Wymiana zespołu grzejnego KYOCERA-MITA TASKAlfa 180 181 220 221 FK-460 FK460
www.copy-expert.pl przedstawia film: JAK WYMIENIĆ FUSER Zespół grzejny KYOCERA-MITA TASKAlfa 180 181 220 221 / UTAX CD1118 CD1218 CD1222 / OLIVETTI DCopia 1800 1800MF 2000 2200MF FK460 FK-460...